I have been absent from the blogging scene for a number of reasons. Parents in their 80's who are have had surgeries, managing the chaotic schedule of my life, working on design projects, running out of fabric due to errors, getting 57 yards of fabric that is defective....and then there's a bright spot: our lovely daughter is engaged!
So while all the other stuff in my life makes me so stressed out that I feel my pounding heart is going to jump out of my chest, I am taking tonight off to dream of weddings....pretty flowers and gardens. The couple wants a small wedding, outdoors. (How on earth do I do that? I am one of 7 kids in my family, my mom is one of 6 kids, dad is one of 8 kids. Do you know how many cousins I have? Well, I don't even know. However, after I pare the list down to my my siblings and their familes, that comes to 51 people! That excludes two siblings who have chosen to drop out of the family scene!) I have an additional 23 relatives that have made it to every party and event we have ever had...and I haven't added any family friends to the list.
I understand that they want a small wedding, and each person won't know half the people at the wedding, but face it, marrying into my family is like marrying a village. It's a German village, not a beer drinking German village, but one that likes marzipan and accordion music. (my brother wore lederhosen growing up, hee hee)
I remember my daughter's high school graduation. She called it "My Big Fat German Graduation". It was a fantastic weekend! Everyone came to Portland, Oregon, and we had a fabulous time doing fun things like hiking in the Columbia Gorge. I have one nephew tell me he's never had so much fun in his entire life! I think we'd like to capture that same spirit with this even more important event.
My very cute dad at a wedding age 15
The couple was pretty specific about wanting a small, intimate wedding before they even priced it out. (Dad asked them to submit a budget for approval). I think they were shocked at what everything costs. It sort of feels decadent to put on such an elaborate event with kids pinching pennies, starting out in life. Lucky for Dad there's only one daughter. The apple of his eye.
The bigger problem in planning a wedding is: Google! So many options, what to do! I wouldn't even know about some of these wonderful places. What would you do? I've had fun tonight looking things up.
#1 San Ysidro Ranch
Wow! I almost wish I hadn't found this place. It's sooo cute! The history is filled with celebrities staying here: John and Jacqueline Kennedy honeymooned here. Lawrence Olivier and Vivien Leigh were married here. (The kids probably don't know who that is...)
They have a wonderful little cottage called hydrangea cottage. What a cute place for a reception!
© Michael + Anna Costa Photographers Ltd., La Fleur Weddings, San Ysidro Ranch
Jessica Claire
has some wonderful photos which I didn't want to steal. Anyway, it would fall in the "it's too far away" for most family members to travel to. (Except the ones who fly their own airplanes, so they don't waste time, so they can put in more 18 hour days working...what a workaholic family...I digress...)
#2
Auberge Du Soleil, Napa Valley
Great view, known for great food, but this setting doesn't say romantic wedding to me. Too many hard surfaces.
#3
Stone Pine Estate in Carmel Valley
What a house, nice cars too!
What a pretty setting!
The venue is very expensive, but they have a country wedding lawn that is cheaper to use.
#4.
Bernardus Lodge, Carmel Valley
I love the pretty garden
Throw in a few urns, Italian cypress, and I'm happy....
Other garden ideas not in California:
This is a place called Camp Korey (.org) Of course it is in Washington State, hence the green garden...
Of course, we could always do the Columbia Gorge Hotel, since this is where she grew up!
What do the kids want to do? They want to go to Hawaii. That would allow friends and cousins to do things together for at least a day or 2, instead of all that travel for a couple of hours. I guess it would be more in the spirit of that big fat german graduation. However it is not likely that my parents or my husband's parents would attend given their age. They may not attend a local wedding either. It's such an ordeal to get them into a car and go anywhere.
#1 Oasis World Estates
. This is a Kathy Ireland venue. It's a house, a nice oceanfront.
#2 Grand Hyatt Kaui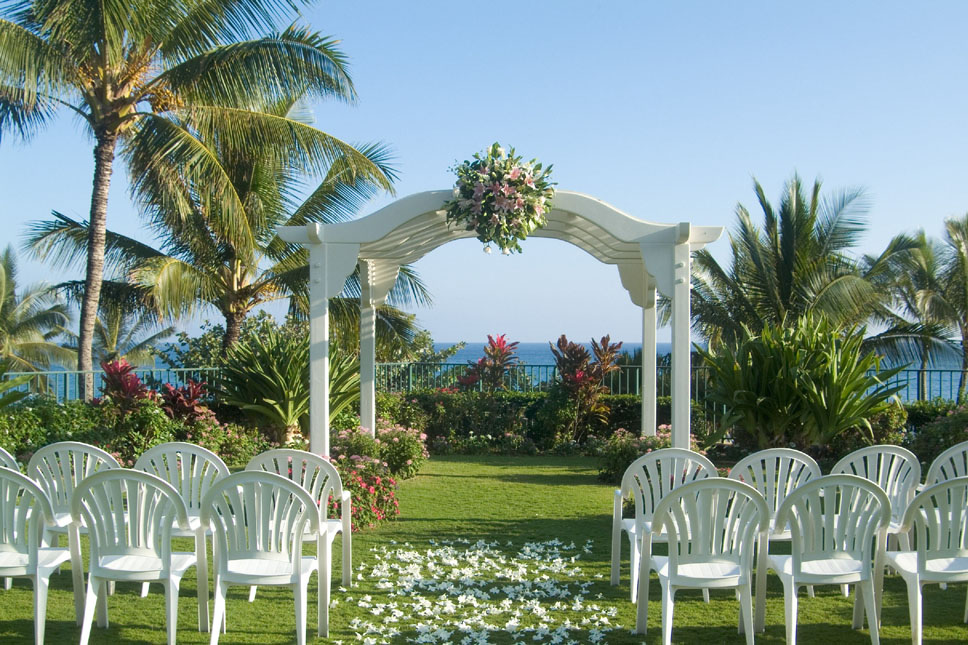 Hyatt, $5 plastic chairs, really?
#3 Hanalei Colony Resort
Doesn't this look romantic!
Crystal Chapel, Hilton
Oops, it's not outside. I did really like the all white interior and wanted to share it. It does overlook the ocean.
St. Regis Princeville, Kaui
I really love the pretty trees framing the ocean view, with the mountains in the distance. I really like this vignette.
I love the outdoor patio
Aulani Resort, a new Disney property
Oh oh, I think this place will be crawling with kids.
4 Seasons Lodge on Lanai
Isn't this pretty. It's on Lanai which is remote and not easy to get to. I'm not going to share which one they'd like to use at this point....I have been so involved with the stress of taking care of my dad's health issues, that I really haven't had alot of time to think about this or research any of the wedding sites. Everyone knows I am not the best at multi-tasking, which is why I am still up at 4:11 AM.
I also have a niece getting married this summer, and have been trying to take care of tasks requested of me.... ( I am going to do the flower arrangements on the reception tables...using something antique to put them in...stay tuned til August for the reveal on that!) Maybe that's why the my daughter doesn't want a big wedding, it's on the heels of another big family wedding. It really shouldn't matter, right?
Some of the all inclusive resort weddings sound really great, but then I read reviews of disasters on the internet, mostly relating to planners that don't take care of the details as promised. I don't like that. I don't mind paying for someone to plan the whole thing, but I don't want it to go south. I can do that all by myself. Has anyone had an experience that they'd like to share?
So what are German wedding customs?
Sawing logs? Really?
Read about customs here!
A short note on wedding dresses: they all seem pretty to me! The only dress my daughter has ever seemed excited about is a Lauren Bush Lauren's dress featured in Dec 2011 Vogue
Click here to read about it in Vogue. That lace! As an antique textiles dealer, I'm totally in love with this lace! I'm puzzled about the length of the groom's pants. They seem short to me. But I'm sure they're totally correct. Don't you love the groom's velvet tails!
Isn't this a beautiful couple! To die for dress, awesome site. Lauren Ranch in Colorado. Wow!
She nixed our back yard...because I haven't landscaped yet. It's not the Lauren Ranch, but give me time!
Dress shopping will be fun. Decisions will be difficult as my daughter would look great in anything. I see we are in a phase of strapless wedding dresses, but given the recent royal wedding, I'm happy to see the return of sleeves. There's nothing more awkward than a bride tugging at a strapless dress. Below an Elie Saab dress in my 10 minute foray in to dresses:
Tell me about your favorite wedding!!! I'd love to hear about it! Til next time....